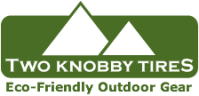 www.TwoKnobbyTires.com is an online store for outdoor gear that promotes a healthy, active, and eco-friendly lifestyle. blog.TwoKnobbyTires.com provides free information about trails that includes directions, maps, elevation charts, level of difficulty, pictures, videos, camping sites, plants, and animals. We hope to inspire people to spend time outdoors and connect with nature in an environmentally-responsible way. Two Knobby Tires® supports the following non-profit organizations:
Adventure Cycling Association
American Hiking Society
Appalachian Trail Conservancy
Bikes Belong Coalition
Green Mountain Club
International Mountain Bicycling Association
Leave No Trace
Linn Area Mountain Bike Association
People for Bikes
Tread Lightly!
Trips for Kids
Winter Wildlands Alliance
Blog Writers
Robert Miller – I am a volunteer naturalist and owner of Two Knobby Tires® online store for eco-friendly outdoor gear. I love both hiking and mountain biking; and enjoy an occasional camping trip. I map trails using a Google Android phone and the My Tracks application. Feel free to e-mail me @ twoknobbytires at gmail.com
Subscribe by Email to receive new blog posts directly to your inbox.
Two Knobby Tires is owned and operated by DropClip LLC of Delaware